The main part of this bulletin is an Australian column, 'Fooled By A Ship of Frauds', which describes refugee-related events in Australia. Readers will see that events in Canada are similar.
We are circulating  this column because Canadian Immigration Minister Jason Kenney is currently being attacked by the refugee lobby for introducing measures that would help to end the abuse of Canada's refugee system.  The things that have happened in Australia have also occurred here. Mr. Kenney  should stand his ground against the refugee lobby and introduce even stronger measures.
Since 1990, over 800,000 people have entered Canada as refugees. Some were genuine refugees but most used the refugee system to create an entirely alternate immigration system. A very large number of these people  were accepted and walk freely around Canada today. After being accepted, they sponsored numerous relatives who entered Canada through the Family Class.  These Family Class relatives are now sponsoring their relatives.
Stopping this chain migration, which has probably exceeded well over 2 million, should be a high priority. Correcting abuse of the refugee system will therefore solve many other immigration problems, particularly Canada's world's-highest per capita intake.
Listening to the refugee lobby, who have created and perpetuated this mess, should be erased from Mr. Kenney's "Things To Do" list.
Mr. Kenney has to stand up against this pressure. Most Canadians will support him.
========================================================================
Fooled by a ship of frauds
Miranda Devine
The Sunday Telegraph
Sydney, Australia
May 06, 2012
WHEN it comes to immigration, Australia has become a soft touch where lies and fraud are a prerequisite for entry.
Everyone knows what's going on but as long as the lies are consistent, there is a nudge nudge, wink wink acceptance
"Australia gives citizenship if you have a good story," a people smuggler told The Guardian in January, spruiking (speaking in public about) all-expenses-paid trips from Afghanistan to Australia for $11,500, including forged documents ranging from fake marriage certificates to death threats. They will know you are lying, but as long as you say the same thing whatever they ask you, you will be fine."'
And so it seems.
Last week we heard serious claims of widespread fraud in immigration visa applications, which are going unpunished, if they are noticed at all.
Two whistleblowers from the Department of Immigration told ABC's 7.30 program last week of widespread rorting (cheating) of visas, of Pakistanis pretending to be Afghan refugees and of family reunion privileges being used for child trafficking, child brides and the arrival of people unrelated to the Australian-based sponsor. [For the transcript, see http://www.abc.net.au/7.30/content/2012/s3494197.htm ]
"Illegal facilitation of non-family members, children, child brides and unknown strangers via false documents, false statements and false applications," was how one anonymous department employee described the deceptions.
"Afghans in Pakistan are now coached by ever-more informed relatives and agents in Australia how to sidestep (the department's) integrity processes," she said.
"When particular visa subclasses are being cracked down on — for instance the 'Orphan Relative' and 'Carer' visas — the fraud simply moves to other caseloads . . .
"Family reunification visas are now the preferred 'fraud de jour'."
Another whistleblower, a former visa officer from the Australian High Commission in Islamabad, told the program: "A large percentage of my case load would have been Pakistanis claiming to be Afghan refugees or Afghan asylum seekers.
"I know that there are children that have come to Australia that are not related to the people that they have been sponsored by.
"They've just been lost in the system, lost in the world of wherever they are. It's a policy problem, and we're so concerned with being politically correct and not being seen as racist that we are compromising our own integrity."
She claimed that when fraudulent applications were rejected, the Migration Review Tribunal in Australia would often overturn the decision and grant the fraudster entry. You can hardly blame the MRT, where Australian-based sponsors appeal visa rejections on behalf of applicants overseas.
"We're not coping particularly well at the moment," principal member Denis O'Brien said, citing more than 10,000 cases this year.
He made the same point in last year's annual report, warning of increased delays as workloads escalated, with a 24 per cent rise in applications for 2010-11.
"Our decision-making is sound," he told the ABC. But with such an overload and, under orders from the minister to process people faster, you can see the pressure on review tribunals just to wave people through.
Immigration Minister Chris Bowen was in Sri Lanka last week, but his office downplayed the ABC's story, and claimed it was out of date.
"We are confident we have appropriate measures in place to address any potential fraud from occurring in our systems," he said.
But if fraud is detected, Bowen's spokesman could give no evidence that anyone is penalised for it.
That's a curious benevolence, which surely gives a green light to future scammers.
He dismissed the former visa officer who spoke to the ABC as, "a former locally engaged junior officer who is out of date with technological advances in fraud detection.
"It is obvious she is completely unaware of the department's practices and advances in biometric data collection, investigation techniques and the strengthened integrity measures that have been in place for some time."
DNA tests are used in "some cases to prove familial relationships".
Fingerprints of asylum seekers and illegal entrants, stored in a shared database with the UK, Canada,
New Zealand and the US, help catch "a lot of people trying to commit this kind of fraud".
In 2011-12, the Immigration Department enrolled 51,352 fingerprints in a data bank, and referred 7306 fingerprints to other countries, resulting in 839 matches.
Of those, 101 identities were found to be mismatched; that is, fraudulent.
But Bowen's spokesman could not cite any charges or prosecutions resulting from those 101 detected cases of fake identity.
"Mostly they're stopped at the other end, so no action is needed here," he said.
Nor was he aware of any attempts to hold to account anyone in Australia who had sponsored the fakers to come here.
Nor could the Australian Federal Police point to any prosecutions here of anyone involved in the sort of visa fraud alleged by 7.30.
"Through media reporting, the AFP is aware of allegations of visa fraud involving family reunion visas," a spokesman said on Friday.
Only if an allegation involved "serious and organised" fraud, would the AFP investigate, "in co-operation with the Department of Immigration and Citizenship".
But Opposition spokesman Scott Morrison says it's unlikely any prosecutions are under way.
"I thought the government's attitude towards (the allegations raised in 7.30) was very casual," he said. "I don't think they want to know how bad the problem is. If what the whistleblowers claim is correct, then crimes are being committed by people with visas in Australia, yet no one appears to have been investigated.
"What we have here is a fraud industry working over our immigration system. The potential risks of getting this wrong are massive."
Even migration agent Marion Le, a long-time refugee activist, is worried. "I know that there are people living now in Australia as permanent residents and as citizens who are actually citizens of Pakistan, but who pass themselves off as Afghans," she told the ABC.
"I think that's a very big concern for Australia because we have no way of knowing who those people are."
The integrity of our border protection system is under threat, with implications for national security, for fairness, and for continued community cohesion in one of the great immigrant nations of the world. No starker evidence of the chaos exists than the 16,000 unauthorised boat arrivals since the Rudd and Gillard governments dismantled the successful Howard-era border protection policies. The arrivals are escalating and are so frequent they barely make the news, unless a tragedy occurs.
The government's policy lurches are luring people here on false pretences, inducing them to cheat, and rewarding them for breaking our rules.
The problem for the Coalition is how to put the genie back in the bottle once they gain office.
They have a plan but it is not going to be pretty.
++++++++++++++++++++++++++++++++++++++++++++++++++++++++++++++++++
The increase in Afghans leaving for Europe fuels a lucrative business in fake passports and Taliban death threats. See the following articles :
http://www.guardian.co.uk/world/2012/jan/18/afghanistan-people-smugglers-taliban-europe
Boom time for Afghanistan's people smugglers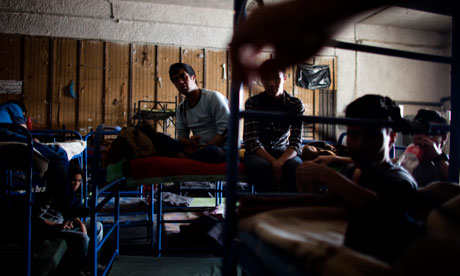 For citizens going into battle against Afghanistan's officialdom, the warren-like building across the road from the headquarters of Kabul's police chief is a one-stop shop for every document they could need.
From their tiny cubbyhole offices, an army of typists can run up everything from marriage certificates to CVs and job application letters. Also available, for several hundred dollars more: Taliban death threats, the special chits also known as "night letters" that can be a passport to a new life in the west.
"We can write whatever you need; it depends," said one young clerk. "For example, we will mention you work in a government department, your job title and salary. It will say, 'If you don't leave your job by this date, we will come and kill you or put a bomb in your house'.
"Or we can say you are working with US forces," he added.
For a large number of Afghans such a purchase is just the first of many expensive outlays on the high-risk road to a new life in the west. Buyers hope the document will persuade immigration officers many thousands of miles away to give them asylum in Europe or Australia. The document is one part of a growing and lucrative business in smuggling a tide of mostly young, unaccompanied Afghan males overseas.
One people smuggler was happy to talk business after a perfunctory introduction in a car next to a police checkpoint in Kabul. He said two factors were driving a boom in his business: the rising fear among some Afghans for the future of their country and the existence of a class of well-off professionals who can afford his huge fees.
"Every day I am helping more people from all corners of Afghanistan to get out of the country," he said. "If everyone had money, then everyone would leave."
The Afghan government recently reported that around 50,000 Afghans cross illegally into Greece each year, a country which is both on the outer reaches of the Schengen zone and relatively easily reached from Turkey.
Smugglers offer different packages depending on what people can afford. By far the most expensive option, often in excess of $20,000 (£13,000), involves the elaborate forgery of European passports, or tinkering with legitimate ones, which allows his wealthiest clients to fly directly to their target country. "Eighty per cent of my customers go on a fake passport to Britain," confides a smuggler working in the eastern city of Jalalabad. "If you have money, everything is possible because we have contacts in western countries who make them for us."
A high proportion of his customers choose to fly from Islamabad and travel under fake Pakistani passports. "We have people at the airport who make sure they will get through customs," he said. "The deal we have is that once the customer is successfully on the plane, he has to pay. When they get to the UK they are on their own. We tell them to lose their documents when they arrive and go to the police at the airport."
He oversees the departure of around 15 people a month by plane. He also assists around 100 people each month who can only afford to travel by land, a figure that quadruples in the summer when the mountain paths between Iran and Turkey are less treacherous.
That was the route tried by Mohammad Nasim, a 21-year-old from a well-off family who decided to try and leave his country after his brother was killed by a bomb at the Indian embassy in Kabul.
His ultimate destination was the UK, but he only got as far as the Greek border after walking over the mountains from Iran into south-east Turkey. Around 40 other Afghans were in the group walking under cover of darkness along mountain tracks. With fake passports they then travelled by car to Istanbul, but the expensively acquired documents failed him when he tried to cross into Greece.
"I'd agreed to pay $18,000 if I got to England, but I only had to give them $5,000 in advance," said Nasim. "I was just unlucky when they checked my document on the computer."
He was deported back to Iran where he was kidnapped by a criminal gang before being allowed to return to Kabul after his family paid a ransom.
Becoming victims of such criminality and exploitation is a constant risk. The situation for marooned Afghans in Greece is so bad that the Afghan government plans to open an embassy in Athens to help deal with tens of thousands whose dreams of moving deeper into Europe have turned into a nightmare of limbo with no money or papers. Their plight is often made all the worse by smugglers who keep their passports until they are paid in full.
"It is a lot more difficult to get asylum protection in Greece so it is just a transit point," said Jean-Philippe Chauzy, a spokesman from the International Organisation of Migration. "There is a lot of resentment against migrants in Greece, especially with the economic crisis, which makes it very hard to make money and continue their journeys."
Others are robbed before they get very far at all. One man who had a decent case for asylum, having worked as a translator for Australian forces in his home province of Uruzgan, is now stuck in Quetta after paying $40,000 to smugglers, who took him to Karachi then abandoned him.
The huge fees mean that most would-be emigrants are rich by Afghan standards, many having done well in post-Taliban Afghanistan. "I have people from all corners of Afghanistan, but most of them come from Kabul because they are rich," said the Jalalabad-based smuggler.
For a passage to Australia, another popular destination, the smuggler offered an all-expenses-included trip for $11,500. Like others in his trade he recommended Australia, promising it was a soft touch on granting asylum.
"Australia gives citizenship if you have a good story," he said. "I am 100% sure that after spending six months in a [processing centre] in Australia you will get citizenship if you do not lose your temper and have warning documents from the Taliban saying you can't live in Kabul."
He also trains his clients to stick to their story: "They will know you are lying, but as long as you say the same thing whatever they ask you, you will be fine."But the route to Australia is one of the most treacherous. After flying to Malaysia legally, the migrants move across the porous border into Indonesia from where they try to sail to Australia, if they are not caught by the Indonesian authorities and put in grim detention centres where they can remain for years.
Half of the migrants in limbo in Indonesia are Afghans, the UN says, with the flow increasing in recent years. Around half of those who get caught on the way eventually opt to go home rather than endure years in an Indonesian detention centre.
If they avoid getting caught they will try to travel on small, often overloaded, boats to Christmas Island, an Australian territory just 200 miles south of Jakarta.
One Quetta-based smuggler, Abdul Khaliq Karbalay, is currently advising would-be clients to wait as the route has become unusable in the wake of the sinking of a boat full of migrants off Java's east coast in December. Around 250 people were aboard but only 47 survived. Of them, only one asked to be repatriated back to Afghanistan. "Try again in 10 days," the smuggler suggests.
For Mohammad, a 30-year-old mechanic from Parwan province, finding the cash to travel is almost impossible. But he wants to leave because he thinks he will escape poverty if only he could work in Australia.But as an ethnic Hazara he is also concerned the future my see the return of the Taliban. The movement orchestrated the slaughter of Hazara men in the northern city of Mazar-e-Sharif in 1998. "I only survived by hiding in a house that the Taliban thought had been searched," he said. "I believe that when the Taliban come again they will start killing Hazaras.""I am worried about the future of Afghanistan," he said, pointing off into the distance at the wall of snow-capped peaks that surround the Afghan capital. "The Taliban are behind those mountains; they can come tomorrow or the day after."
Additional reporting by Nooruddin Bakhshi
+++++++++++++++++++++++++++++++++++++++++++++++++++++++++++++++++++
+++++++++++++++++++++++++++++++++++++++++++++++++++++++++++++++++++
http://www.smh.com.au/national/australia-a-soft-touch-for-asylum-20120121-1qbaj.html
Australia a 'soft touch' for asylum
'Australia gives citizenship if you have a good story.'
Photo: Angela Wylie
AFGHAN people smugglers have told their customers Australia is a soft touch for asylum seekers, as long as they have a "good story" and stick to it, according to a British report.
The asylum seekers are reported to include an Afghan man who had worked as an interpreter for Australian troops and was duped out of $US40,000 ($A38,000) by smugglers. One of the smugglers openly boasted of coaching his customers in how to convince Australian officials that they were genuine refugees.
The operations of the smugglers, and their claimed familiarity with Australian refugee polices, has been revealed in a detailed report on  The Guardian website. The report quotes a smuggler based in the eastern Afghan city of Jalalabad who charged asylum seekers $US11,500 and who, like other smugglers, recommended Australia to his customers as a soft touch on granting asylum.
"Australia gives citizenship if you have a good story," he said. "I am 100 per cent sure that after spending six months in a [processing centre] in Australia you will get citizenship if you do not lose your temper and have warning documents from the Taliban saying you can't live in Kabul."
He trained his clients to stick to their story: "They [Australian officials] will know you are lying, but as long as you say the same thing whatever they ask you, you will be fine."
The Guardian report details a sophisticated smuggling operation involving forged documents, including bogus Taliban death threats that can be used in support of asylum applications.
But it also mentions the plight of people who would appear to have genuine claims for asylum, including ethnic Hazaras persecuted by the Taliban, and a former interpreter with Australian troops in Oruzgan province.
The interpreter paid $US40,000 to people smugglers, only to be abandoned across the border in Pakistan, where he is now marooned.
The Australians, like other foreign forces, hire civilian Afghan interpreters who accompany troops on patrol.
They are unarmed and some shield their faces while working with the troops, because of Taliban threats.
They earn between $US600 and $US900 a month, a lot by Afghan standards. They are hired through civilian contract firms, including Kabul-based International Management Services.
At least two interpreters have been killed in action while accompanying Australian troops, and several others have been wounded.
+++++++++++++++++++++++++++++++++++++++++++++++++++++++++++++++++
+++++++++++++++++++++++++++++++++++++++++++++++++++++++++++++++++
http://www.liberal.org.au/Latest-News/2012/05/03/Reports-of-immigration-fraud-demand-answers-from-Minister-Bowen.aspx
See also http://www.scottmorrison.com.au/info/speech.aspx?id=387&page=1